Artist of the Week 01/09/06
Note: Rather than make the same tired excuses each time I write about an artist who's more established, let me change the working description of the "Artist of the Week" now to be the artist whose work I've been wanting to write about most recently. Moving forward, I expect it to fluctuate between emerging and better known artists. I also intend to offer at least one specific critique going forward. We'll see how long that lasts (depends on how many icy glares I get, I suppose).


David Humphrey was a star in my eyes long before I ever met him. The first time I realized I knew his work was during a three-person solo exhibition at Postmasters back when it was still in SoHo. What's a three-person solo exhibition, you ask? An exhibition of works where each piece was made by three people, of course. In this instance the collaborative team was nicknamed "SHaG" which stood for [Amy] Sillman, Humphrey and [Elliott] Green, stars all in the New York painting world. I can't find any images from that exhibition, but if you know these artists' work, you can probably imagine how fun seeing their vocabularies overlapping would be.


A few years later, I caught David's 2000 solo exhibition at McKee Gallery uptown. It was (forgive me for saying this David) a difficult exhibition for me. I loved the biomorphic imagery and unapologetic sexuality, but I felt there was something hesitant about the way he was using color at that time. This may be more related to my limited exposure to his work at that time than a sophisticated assessment, but I was still a bit confused (i.e., unable to see through the color). Here's one of the monochromatic images from that exhibition (which just rocks, IMO):
David Humphrey, Entangled, 1998, Oil on Canvas, 30" x 24" (image from
McKee Gallery website
)



and one with color:


David Humphrey, Co-Occurring Conditions , 1999, Oil on Canvas, 54" x 44" (image from
McKee Gallery website
)



OK, now, with all due fairness to David, it's idiotic to cherry pick to images like this to make a point, but all I'm saying is I was still confused by his use of color in this series. By the time he was making work like the image at the top (part of
CreativeTime's
"Dreamland Artists Club" series of murals out at Coney Island), I was no longer confused, but a die-hard fan.

In the interim, I had met David (he's currently represented by the astonishingly strong Chelsea gallery
Sikkema, Jenkins, & Co.
) and found him to be a delightfully witty and charming person, which always tends to sway one's opinion, but was not the source of my growing enthusiasm for his work. What I sense had changed, from my POV at least, were choices resulting from the increasing dialog (if I may call it such) between his paintings and his sculptures (more solids passages, more playful palettes, etc.). Here's a shot with one of both from an exhibition at
Fredric Snitzer
Gallery in Miami (I think...see comments for details on my confusion about this):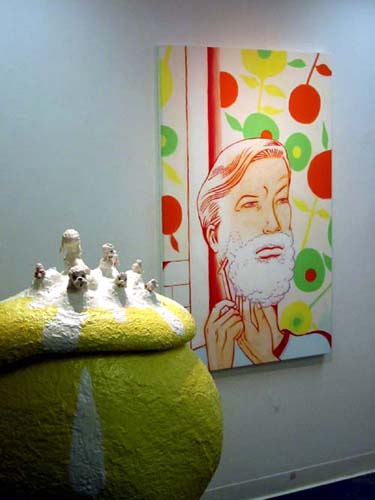 Here's another recent painting...



David Humphrey, Babysitter, 2004, Acrylic on canvas, 44" x 54" (from

Sikkema, Jenkins & Co website

).



And an installation view of his 2002 exhibition (with some wonderful sculptures) at Solomon Projects in Atlanta... where he has a new solo exhibition opening this coming Saturday (thanks w.w. and M.M.):


I've been to David's studio a few times now. As you might imagine, it's a bit like visting Willy Wonka's Chocolate Factory...fascinating, delicious, and perhaps just a tad dangerous (for those clueless souls who don't know their own inner demons). Each time I've fallen in love with a new drawing or painting or sculpture, like this one:


David Humphrey, Thanks, 2003, Acrylic on canvas, 72" x 60" (image from
Solomon Projects website
)