Artist of the Week (10/17/05)
There's an unfortunate reality for artists who dare to examine society's taboos in that their work's subtlties are often entirely overshadowed by the sensational response to the subject matter. The art world's response is often times little better than the general public's either (think of how "Sensation" was marketed and you'll see that overhyping "bad boy/girl" art is just another means of belittling or rejecting it...none of that work deserved the carnival barker's style marketing it received in that exhibition). Both ends of that spectrum focus on the "scandal," often entirely missing the layers of the artist's message.

One artist who's been able to transcend that response a bit though is New York-based multimedia artist Joe Ovelman. Joe's work is unquestionably dealing with taboos, but he's so thoughtful about the process and execution of his work that you end up seeing past the scandalous subject matter.
Joe works largely in series, setting up the same scenario again and again with different people. The series by him that first caught my eye was installed in the home of collectors James Wagner and Barry Hoggard (bloggers extraordinaire and on the bleeding edge of new art like few other collectors I know). It comprises 23 photographs of strangers on Miami Beach whom Joe convinced to don his father's Marines uniform (including one woman). We included this series in a group show at the gallery once; installed side by side, it offers a spectrum of bemused-to-serious faces and personalities. What's fascinating about this series is the paradox of dressing a stranger up in the artist's father's clothes (something so intimate and---given our natural associations with vintage uniforms---romantic) with such an open, public, all inclusive approach. There it is, for the whole world to see, an act that seems almost painfully personal. Here are a close-up and partial installation shot from our exhibition (I apologize for the shoddy quality, better images are not readily available at the moment...you can see better images of all 23 on Joe's website.):
Joe Ovelman, Marine Corps Uniform - 1970, 2000, 23 Black and White photographs, 14.5" X 10" each, edition of 8.
But Joe goes much (much) further in exploring intimate acts with strangers in public. Represented in Washington DC by Conner Contemporary Art, Joe is a bit infamous for his series titled "17 Strangers" (at one time this series was also titled "Subjugation," but that seems to have been dropped). The image at the top is one of the 17 in the series of men wearing a jacket (some accounts say Joe's father's jacket, but he never told me that directly) and Joe, on his knees before them wearing their jackets. The location for the series is the Rambles in Central Park, known to be a meeting place for public sex between men. You can't see any faces in the photos, but the hands of the strangers, always placed on Joe's head, express an incredible range of emotions. Joe explains that he met these strangers in the Rambles and asked them to help him with an art project. The fact that any of them agreed (and believed that he wouldn't exhibit their faces) is a testament to Joe's powers of persuasion.
Joe recently returned to the Rambles for a series of 17 images titled "Snow Queen" (as Barry Hoggard reports "If you are interested in the details of the piece, I was told by Joe that it was shot in a single night by himself with a tripod. Amazing." Dressed in his grandmother's white stag coat at 4 am, he creates a tragicomedy of glamor's emptiness exposed (in some shots, literally):


Joe Ovelman, Snow Queen #9, 2003, C-print, 11 x 17 in, edition of three (image from
artnet.com
)
Joe Ovelman, Snow Queen #8, 2003, C-print, 11 x 17 in, edition of three (image from the
artist's website
).
Joe's projects also include unauthorized public art, such as "Tenth Avenue Wall" where he put up posters on construction site walls. As he explains on his
website,
"Before they were grafiti, these large posters were part of an installation at the Islip Museum, on Long Island." Here's an image from
James Wagner's site
: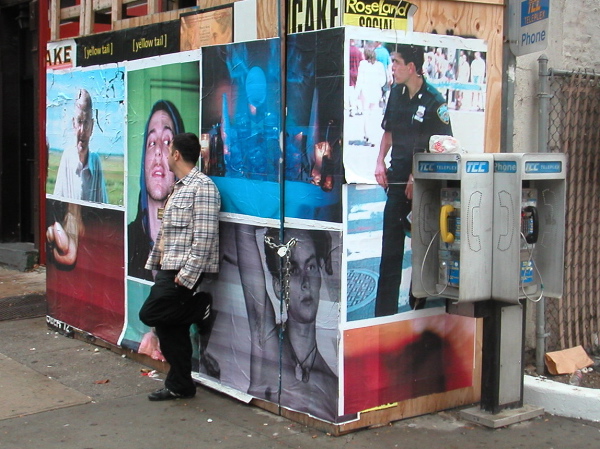 I've never caught one of these installations before most of it had succumbed to vandalism or weather, but even the remnants of them are striking...here's another image from the
artist's website
:
Finally, no survey of Joe's work would be complete without a few of his hilarious
Post-it Notes pieces
. They're like popcorn; I can't stop wanting more of them: